Mother's Day Gift Ideas Under $50
April 19 2019 – Tracey Tanner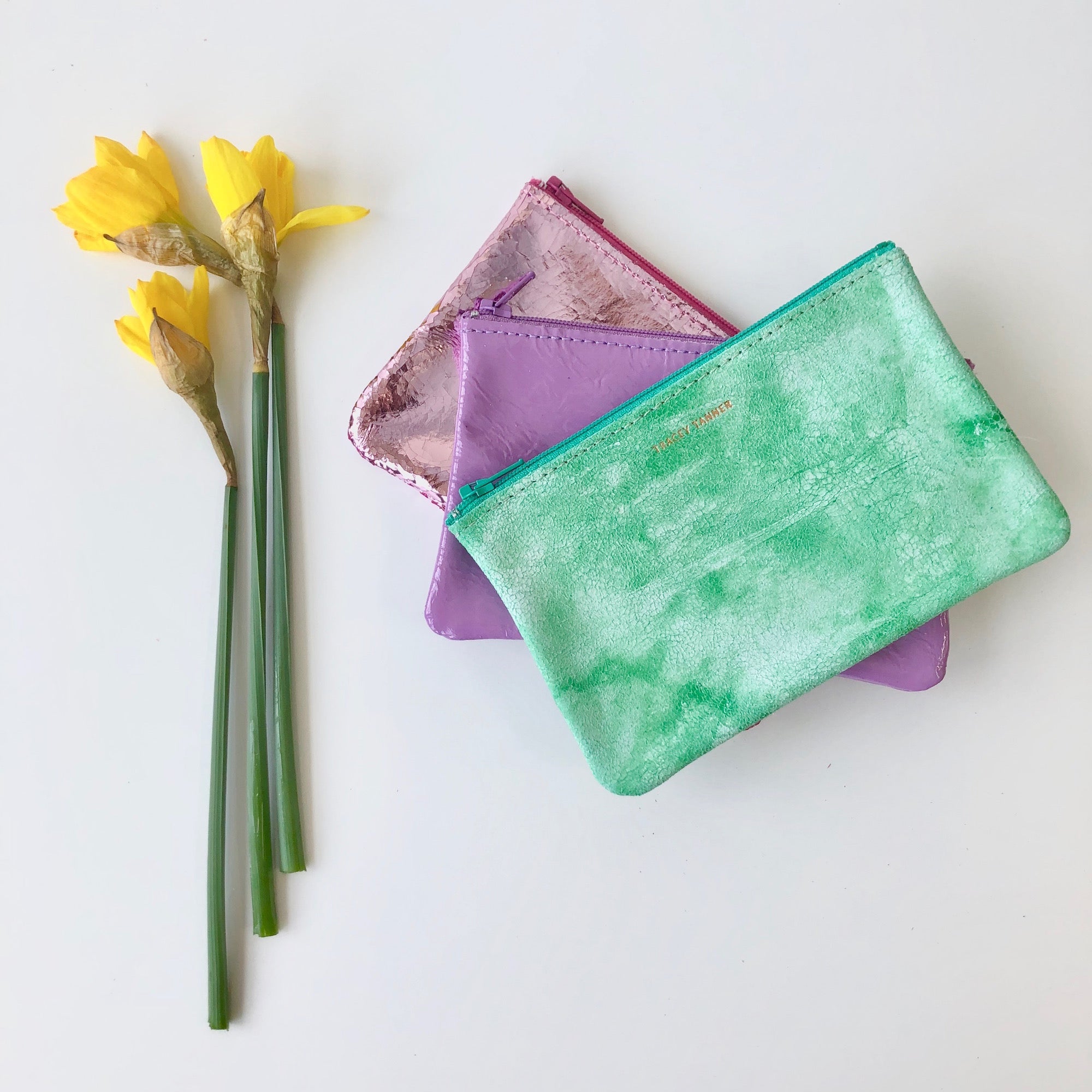 Mother's Day is May 12. Treat her with some of these gift ideas under $50. Please place orders by Sunday, April 28 to ensure delivery by Mother's Day!
1. Small And Medium Zip Pouches $39 - $49
Organize your essentials in style. Multi-purpose zipper top pouches that are great for stowing your cosmetics, computer cords, cash, coins and other small daily essentials. The larger sizes can be carried alone as a clutch. Zip small shown below in foil baby pink, patent lilac and white wash spearmint hides.
2. Little And Little Little Pouches $19 - $38
These simple leather pouches with a snap closure are perfect for jewelry, cash, receipts and other small items. Available in two sizes: Little and Little Little. Shown here in temptation sapphire with ink hides.
3. Andie Wallet $45
This little card sized pouch with peg closure fits neatly in your pocket. Andie shown in faux snakeskin oatmeal, sparkle rose gold, basic olive, oxidize bronze and sparkle copperfield hides.
4. Mia Keyring Wallet $45
Mia is the perfect accessory for when you just need to carry the basics. This versatile little wallet comes with an outside card pocket and keyring to attach your keys or to another item for hands free use. Shown in white wash peony, crinkle sea foam, faux snakeskin cherrywood, sparkle cotton candy, optic gold and basic aubergine hides.
5. Charlie Coin Purse $25
No more rummaging around for the items in the bottom of your your bag. This little triangle pouch is great for stashing hair bands, earbuds, coins and other small items. Shown in optic silver, crinkle sea foam, foil hot pink and oxide pewter hides.